Our bees are primarily located near alfalfa fields in Mason Valley and Smith Valley. At a time when commercial beekeepers are invading our valley in large numbers, we appreciate the local ranchers allowing us to use a small part of their land for our few colonies. Our honey is primarily from alfalfa and other clover; however, there are many other sources the bees visit.

We extract our honey and strain it for impurities. We do not heat our honey to a high temperature.
Our honey can be found in local retail stores in Yerington, the Gardnerville/Minden area, and Carson City.


If you have other questions about our honey or where to buy it, please contact us.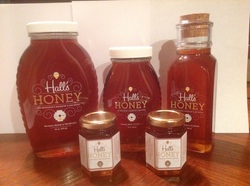 Honey Sizes

2 pound - $18.00 each

1 pound - $10.00 each

1 pound Muth jar (square w/cork) - $12.00

8 oz Muth jar (square w/cork) - $7.00

Honey is very heavy and we use only glass jars. Shipping is often cost prohibitive. If you live outside the Yerington, Gardnerville/Minden or Carson areas, we will try to make arrangements to get it to you.

---